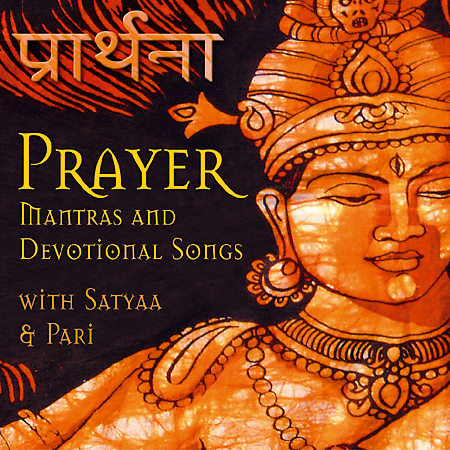 Prayer
Satyaa & Pari Mantra Music
(Für Bestellungen in deutscher Sprache scrollen Sie bitte ganz nach unten links - und wählen Sie Ihre gewünschte Sprache.)
Für Bestellungen mit Banküberweisung klicken Sie bitte › hier.
For Orders with Bank Transfer please › click here.

For Orders with Bank Transfer please › click here..

*Orders of physical CD's to the US are not possible during the pandemic but feel free to order our digital download of the CD instead.
A beautiful collection of songs from the heart
Their third Mantra album recorded in Corfu and Tenerife. A beautiful collection of songs from the heart, mostly self-composed mantras and other devotional songs. The musical arrangements include the Indian bamboo flute (bansuri) and some danceable percussion tracks that hit right into the heart of devotion. A truly inspiring piece of art! Produced and recorded in 2002.
Tracklist:
Hare Hare Om Namoh 5.22

Krishna Krishna 3.30

Om Shiva Omkara 6.06

Shri Ram Jai Ram 6.43

Ghungate ke pate koh 5.03
O Mata 3.21
Sitaram 5.46
Chitta Chora 6.00

Subrahmaniam 7.50

Prayer is the flower of a loving heart
Love for the divine culminates in prayer. It´s the essence of all meditations and spiritual practices.
Prayer is the great way to express thankfulness and gratitude to existence, love, God. These mantras are an expression of this love for the divine and pulled by its desire to drink our heart opens with tears and laughter in prayer.
Artist name:
Satyaa + Pari
Year released:
2003
Label:
Satyaa + Pari
Musicians:
Satyaa: vocals, keyboards, harmonium
Pari: vocals, guitars, bass
Nandin: flute (tracks 2, 4 )
Wolfgang Prechter: bansuri (tracks 1, 3, 5, 7, 8)
Isabella Moog: percussions

Artists Bio:
In the early 1990's Satyaa, originally from Switzerland, and Pari, who is Greek, met in Lucknow, India at the sangha of Sri HWL Poonjaji. Papaji as he was lovingly called by his devotees, emphasized the importance of Bhakti, devotion, as a direct way to recognize God within ourselves. Both Satyaa and Pari were called to sing for Papaji, and in this way they were brought together and eventually married at the ashram with Papaji's blessing.
Their mutual love for the Divine is expressed in Satyaa´s and Pari´s music which is mostly self-composed mantras and devotional songs, and also includes some beautiful traditional bhajans.
Satyaa and Pari share their music and their love at the Alexis Zorbas center in Corfu, Greece where they live in summer, and during the winter months at various yoga centers in Europe.
For more information ,visit the website of Satyaa & Pari and their center's website: www.satyaa-pari.com and www.alexiszorbas.com