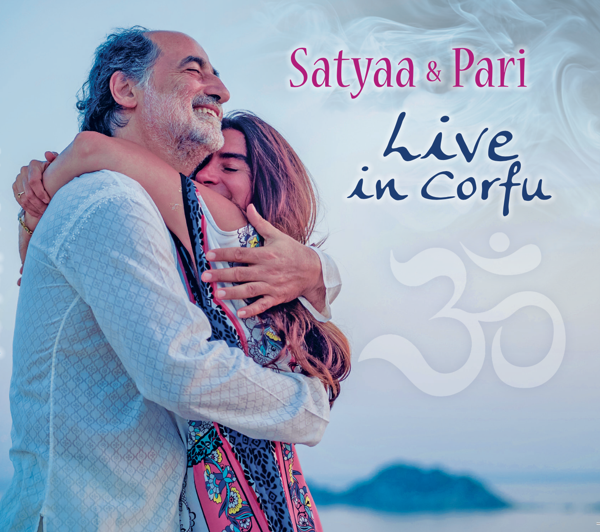 Satyaa & Pari live in Corfu
Satyaa & Pari Mantra Music
(Für Bestellungen in deutscher Sprache scrollen Sie bitte ganz nach unten links - und wählen Sie Ihre gewünschte Sprache.)
Für Bestellungen mit Banküberweisung klicken Sie bitte › hier.

For Orders with Bank Transfer please › click here..

*Orders of physical CD's to the US are not possible during the pandemic but feel free to order our digital download of the CD instead.
Satyaa & Pari live in Corfu
The power of Mantra-Music in live concerts
Long time awaited, this compilation of Satyaa & Pari's legendary live performances on the Island of Corfu includes many of their classics, played and sung together with friends-musicians during their Summer Mantra—Retreats "HEARTS ON FIRE" at the Alexis Zorbas Center in Greece. At times powerful, then intimate, quiet and ecstatic... The full range of vibrations including everything within. Musicians featured: Citra from Estonia (Bansuri-flute), Praful from Germany (Bansuri, Ukulele), Chintan Relenberg from Germany (Bass, percussion) and Veetkam from Switzerland on percussion and the singing participants of the Retreats on Corfu!This delightful musical journey, masterfully mixed and mastered, is a treat for heart, body and soul.
Satyaa und Pari LIVE in Corfu
Mit der puren Kraft der Mantra-Musik aus vielen Live Konzerten!
Seit langer Zeit erwartet, nun ist sie da: die zweite live-CD von Satyaa & Pari – eine Auswahl ihrer legendären Auftritte der Retreats "HEARTS ON FIRE" im Alexis Zorbas Zentrum auf Korfu. Viele ihrer beliebten Mantra-Klassiker sind zu hören, gespielt und gesungen mit unseren befreundeten Musikern und den Teilnehmern der Retreats. Manchmal sehr kraftvoll, dann wieder meditativ und aus der Stille des Herzens bis zu ekstatisch - die gesamte Bandbreite von Schwingungen ist enthalten. Mitwirkende Musiker: Citra aus Estland (Bansuri), Praful aus Deutschland (Bansuri, Ukulele), Chintan Relenberg aus Deutschland (Bass, Perkussion) und Veetkam aus der Schweiz (Perkussion, Djembe & Co). Diese sinnliche musikalische Reise, wunderbar gemischt und bearbeitet, ist ein Leckerbissen für Herz, Körper und Seele.
Produced by: Satyaa & Pari
Tracklist:
Jay Ma 8:41
Ma Durga 11:24
One to One 7:08
Jay Ganesha 10:50
Ek Ong Kar 11:55
Moon on the Water 8:33
Long Time Sun 8:40
In Love with Love 6:02

Musicians
The musicians featured on this live-album are Citra on bansuri flute, Praful on basuri and Ukulele, Chintan on the bass and percussion, Veetkam on percussions. Recorded live at the "Alexis Zorbas Center" in Corfu during the Hearts on Fire chanting retreats. Recorded, edited, mixed and mastered by Chintan in Munich · Cover Design by Silenzio
Artist name:
Satyaa + Pari
Year released:
2021
Label:
Satyaa + Pari
Artists Bio:
In the early 1990's Satyaa, originally from Switzerland, and Pari, who is Greek, met in Lucknow, India at the sangha of Sri HWL Poonjaji. Papaji as he was lovingly called by his devotees, emphasized the importance of Bhakti, devotion, as a direct way to recognize God within ourselves. Both Satyaa and Pari were called to sing for Papaji, and in this way they were brought together and eventually married at the ashram with Papaji's blessing.
Their mutual love for the Divine is expressed in Satyaa´s and Pari´s music which is mostly self-composed mantras and devotional songs, and also includes some beautiful traditional bhajans.
Satyaa and Pari share their music and their love at the Alexis Zorbas center in Corfu, Greece where they live in summer, and during the winter months at various yoga centers in Europe.
For more information ,visit the website of Satyaa & Pari and their center's website: www.satyaa-pari.com and www.alexiszorbas.com